By Inuwa Hamza Yunusa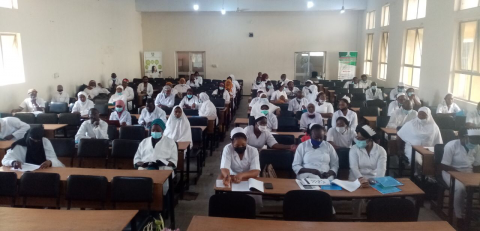 The director, Kaduna Study Centre, Dr. Aminu Umar, has described the National Open University of Nigeria as a great university that positions itself to deliver the best and give quality education to the students.
He said this in a speech at a seminar organised by the centre for level 400 B.Sc Nursing and level 300 and 500 students of Public Health Science departments.
In partial fulfillment for the award of degrees in Nursing and Public Health Science, the director stated, students are expected to mandatory participate in the seminar presentation. 
Umar explained that the 21st Century is characterized by Information and Communication Technology revolution, stressing that NOUN is flexible but tried all what it could to ensure that the flexibility does not compromise quality. 
He urged the students to ensure that whatsoever is observed, critised and rejected, they properly put them into use as corrections to the final copy. 
"Listen, learn and don't laugh at others but rather encourage them. Classroom is the best place for one to show ignorance, as I stand before you, there are so many places I go I feel I have not heard before, that is knowledge," he said.
He tasked the students on any issues they want the centre to intervene on, they should put them through the appropriate channel. "Therefore, if standards are compromised, all of us will pay dearly for that."  
The director also called on them to try as much as possible to ensure that they do the right thing to portray the good gesture of the university. 
He then spelled out guidelines for effective conduct of examination at the centre and the university as whole where he warned that examination irregularities and misconduct will never be entertained. 
He tasked them to be more disciplined and ensure that they abide by all the rules and regulations governing the conduct of examination in the institution. 
Addressing the students before the commencement of the presentation, one of the facilitators at the seminar, Dr. Abdullahi Sabo Muhammad, said they were not there to intimidate the students but rather to provide professional coaching. 
He warned the presenters to desist from reading directly from their papers as they are not news casters whereas the paper should serve as a guide to the presenters.
"So many of you are healthcare providers. You participate in healthcare talk in your various antenatal clinics, health technicians, outreach services. Therefore, remove all manners of phobia and make perfect presentation," he said.
Fifty-nine students drawn from the Nursing and Public Health Science departments participated in the seminar, out of which 33 were 400 level B.Sc Nursing while 14 students were from Public Health Science department.
The two facilitators: Dr. Abdullahi Sabo Muhammad and Dr. Hauwa Bello Shariff came from Kaduna Polytechnic.
Log in to post comments
56 views