By Ene Edoka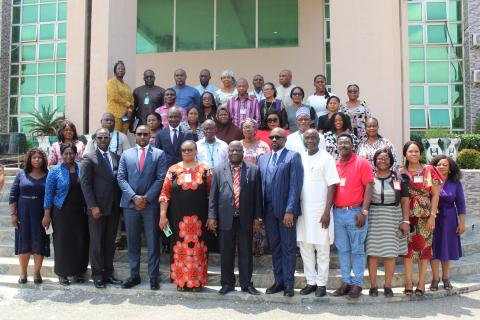 The Vice-Chancellor of the National Open University of  Nigeria (NOUN), Prof. Olufemi Peters has reiterated the management's readiness to continue to support various anti-corruption plans of the university's Anti-Corruption and Transparency Unit (ACTU).
The VC stated at the university headquarters in Abuja to mark the  International Anti-Corruption Day, with the theme: "Advancing Anti-corruption Education in Nigeria: The Strategic Place of  NOUN," organised by the NOUN-ACTU.
Represented by the Deputy Vice-Chancellor, Administration, Prof. Isaac Sammani Butswat, the Vice-Chancellor said corruption is a global threat, even as "the general opinion outside the African continent feels that Africans have corruption problems and are therefore corrupt in nature." 
Peter, however, dispelled such assumptions, saying that the menace of corruption is found in all the other continents of the world, "because every country has its corruption challenges but differs in scope and tolerance." 
He said "NOUN is an institution of great repute and our operations are steered by staff members who have the drive for transparency, accountability and probity. We all know that corruption hinders progress so we must not allow this threat to infuse our community.
"We must refocus on our anti-corruption policies and strategies. Management would continue to play its leading role by supporting the various anti-corruption plans of the NOUN-ACTU to achieve a regime that promotes efficient utilisation of resource and ensure integrity in all its operation."
On her part, the ACTU chairperson, Mrs. Nzenwa Doris, stated that the unit has been celebrating the International Anti-Corruption Day but the unit decided to make an expanded celebration for the first time.
"We decided to expand its activities so as to have more rooms of sensitisaton of the university community on the importance of fighting against this epidemic. We are all witnesses that the problem of corruption permeates all societies around the world and touches vital elements of the society."
Doris added that the Independent Corrupt Practices and Other Related Offences Commission (ICPC) has been featuring in several training and sensitisation events for different category of public officers to address the ills of corruption and ways of fighting it.
She said the management of NOUN is not left out and has always put its efforts behind the ACTU to ensure that all activities are geared toward arresting the ugly menace of corruption.
Former Dean of the Faculty of Social Sciences, Dr. Moses Etila Shaibu and the Faculty of Law dean of the university, Dr. Ernest Ugbejeh, presented papers at the event.
There were a number of relevant agencies such as the Economic and Financial Crimes Commission (EFCC), ICPC, as well as others that graced the 1-day event.
Log in to post comments
85 views